Monday, June 21st, 2010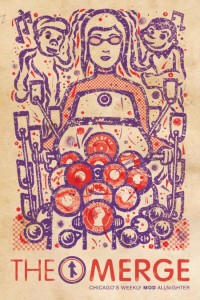 Our Way of Thinking and Mods v. Rockers gave us two sterling weekends in Chicago… lucky for us, the summer is just getting started.  Our friends at Late Bar have tapped local scooter clubs and some of the scene's finest DJs to get down every Friday – they're calling it The Merge.  Last week's kick-off party was a great start, and we see the night growing bigger and better. Expect to hear soul and ska and boogaloo and psych and freakbeat and revival and brit pop and anything else you want to hear that the DJs have in their box. The sound is broad, and we want everyone to feel welcome.
You're gonna want to say you were there, to tell the kiddies about this night.  Let them know that The Merge was something magical… that Late Bar was your favorite place ever to get a drink and dance.  Luckily, it's open till 4am every Friday so you have plenty of time to make it happen. And Hobgoblin drink specials to wash it all down.
Late Bar
3534 W Belmont Ave
Chicago, IL 60618
(773) 267-5283