Friday, August 12th, 2011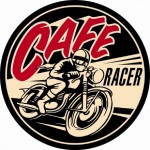 CAFE RACER TV WANTS YOU!
Cafe Racer TV is sending a crew to the Holiday Club's weekly Pints & Pistons next Wednesday, August 17th. They are working on a segment about "Bike Nights" in the U.S., so head over on your best vintage bike… Filming begins at 6pm and continue through the evening.
The Holiday Club is located at 4000 N. Sheridan Rd. in Chicago.