An Ace October Weekend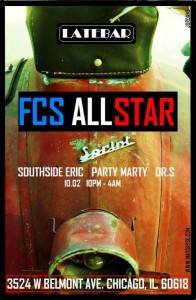 Fall riding season officially kicks off with ACE's annual Octoberfest show.  And we're gonna get going a day early this year with a scooterboy invasion at the Merge.
Start the party on Friday, October 1 at Late Bar with a special northside appearance of the FCS Soundsytem: Southside Eric, Party Marty, and Dr. S.  We start at 10pm and the dancefloor wraps up at 4am. Expect the range of sounds you'd normally only find south of 95th Street.
Following day, Saturday, October 2 meet at ACE Motorcycle & Scooter Co. for the annual Octoberfest vintage rally.  This ride in vintage show starts at 1pm and goes till 5pm, with all sorts of awards available.  Ton-Up Chicago brings the legendary mobile pub, Ace is grilling hot dogs and brats.
Spread the word and we'll see you Friday AND Saturday!
Tags: acetoberfest, fcs soundsystem, late bar, ton up chicago