Return to Subt Tonite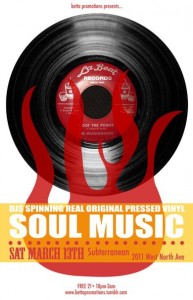 Last time we were at Subterranean we had such a blast, we're quite happy that Gary invited JJ to spin here again. This bar was host to a number of great nights, including the Rare $oul Millionaire's monthly and I'm The Face from MODchicago's Eric Colin and the late Dan Parry of Northern Guerrillas. Always a pleasure to spin this spot.
Gary has brought Grover in from Cincinnati for this round, so we're guaranteed to hear some top notch scooter rally sounds… and still on the heels of High Rollers, that's just what we're in the mood for. This time, WE bring the talc.
Subterranean
2011 West North Avenue
Chicago, IL 60647
No Cover for the downstairs bar!!