Thursday, November 3rd, 2011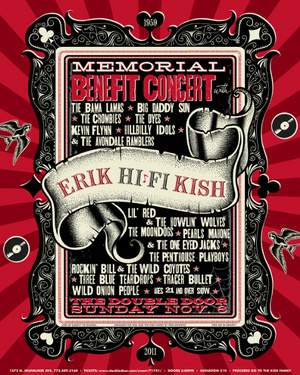 Chicago lost a legend on Sept. 29 when Erik Kish passed away from a motorcycle accident. Hi-Fi & The Roadburners have been long time fixtures on the scene, and through music or Fear City Choppers, Erik converted a LOT of people to the cause of good music, good times, and a way of life we all believe in.
So at MayDay HQ we're exceedingly proud that The Crombies have been invited to perform at the Hi-Fi Memorial Benefit concert. Get your tickets now for the show on Sunday, Nov. 6 at Double Door. There are over a dozen great bands playing, including the Bama Lamas, Big Daddy Sin, the Dyes, Kevin Flynn, Hillbilly Idols, The Avondale Ramblers, Lil' Red, the Howlin' Wolves, the Moondogs, Pearls Mahone & the One-Eyed Jacks, the Penthouse Playboys, Rockin' Bill & The Wild Coyotes, Three Blue Teardrops, Tracer Bullet, and Wild Onion People.
It will be an event to remember, to remember a great guy, and we hope to see you there.