Wednesday, June 8th, 2011
June 18 is just around the corner… but Mods vs. Rockers is about more than one day. It's a way of life. Be sure to support your favorite club on Friday night and get ready for the big rumble!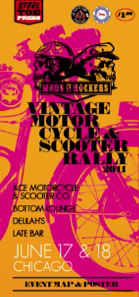 Friday, June 17
Rumble at the ACE
6p-9p; $10
Includes pig roast, the Hobgoblin Ale House, and live music from Pearls Mahone
Rumble Run to Late Bar
9p; FREE
Mods vs. Rockers soul & reggae dance party… till 4am
Saturday, June 18
MODS vs. rockers 2011
Vintage Scooter & Motorcycle Show at Delilah's
1p-5p; $10 for judged entry
Does MDSC bring home another victory? Over 18 categories of vintage, custom, and straight up best bikes in Chicago…
Mods & Rockers TT Run to Bottom Lounge
5p; FREE
All Revved Up!
6p; $10
Annual fish-n-chips dinner, followed by four great bands: Tracer Bullet, Ungrateful Punks, London Calling, and Hi-Fi & The Road Burners!
An all access pass is available from Ton-Up Chicago for $25, go get it now.
Download the full itinerary here!