Wednesday, January 20th, 2010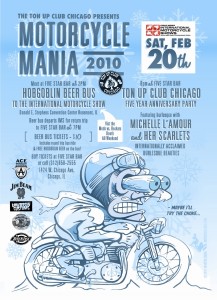 We're mixing it up with our good friends… err, mortal enemies… the Ton Up Club for a Mods vs. Rockers booth at the Cycle World International Motorcycle Show. Stop by and check us out, we'll have 6 scoots and god knows how many motorcycles, plus loads of memorabilia from the Chicago scooter scene! Show runs from February 19-21 out in Rosemont at the Stevens Convention Center.
Best way to get there is on the Hobgoblin Beer Bus – meet on Saturday, Feb. 20, 2pm, at Five Star Bar. $10 gets you on the bus with all the beer you can drink… bus returns from the show at 7pm.  Ton Up Chicago follows it up with their anniversary party at Five Star.
And if bobbers are your thing, don't miss
The Harbortown Bobber screening at Portage Park on Thursday, February 18.  Check the Ton Up Chicago website for more info.