Monday, March 1st, 2010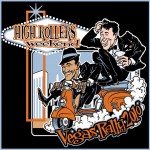 Recovering after a 14 hour "nap" – Vegas will do that to you. Or at least the High Rollers rally will. Jordan5 documents the scene like none other, so head over to our Gallery now and get a taste of all the parking lot action from Saturday's bike show. A little rain never stopped a good scoot…  we ain't here to paint, afterall.  And this year, the Tecate Tree was good to us.
Loads of Chicagoans were there, including JJ and Jordan from MayDay SC, Karrie and Casey from Secret Society SC, Darren, Silent Ron, Rye B. and Alison, Kevin from Windy City Soul Club, Benny and Erin, and we-wish-they-were-still-Chicagoans, Manager John Manion and Kris.  Are we missing anyone?  They're probably still at the Las Vegas Club trying to catch a lobster.
And if 200+ photos in the Gallery ain't enough, find even more pics on our facebook page.