Friday, June 18th, 2010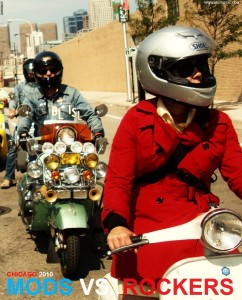 As if last week's MODchicago wasn't enough for us all, tonight we start Late Bar's WEEKLY Merge party!  Good god!!
It all kicks off at 9pm with JJ on the decks spinning a mix of 6ts rnb and mod revival 45s.  Late Bar is open till 4am on Friday so the party goes all night.  Mods v. Rockers is screening Quadrophenia at the Music Box at midnite – if you go, you gotta promise to come back to Late Bar.
Tomorrow you'll find us on Lincoln Ave soakin' in the scene at Mods v. Rockers – Ton Up Club Chicago's annual beast of a block party.  Check out the full list of events. Eye popping! Hard to believe how this thing has grown.
We think the $25 all-access pass is well worth it: you can start our tonight at ACE at 7pm, ride up to LATE BAR, and then tomorrow you're all set for bike registration, fish-n-chips dinner, and the Irving Parkas gig! Oh yeah, hadn't heard? The Irving Parkas play Saturday, June 19 at Bottom Lounge with All Mods Conned and London Calling.  $10 if you just want to see the Parkas play – the boys go on first at 9pm.
On top off all this, Mike Seate from Cafe Racer will be on hand filming the whole thing. So bring your bikes and look your best!