Tuesday, December 13th, 2011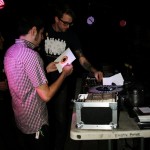 Windy City Soul Club turned 3 at its monthly party at The Empty Bottle on Saturday, December 10.  J5 was there with camera, and we have the mother of all photo uploads in our Gallery now. Were you there? Find yourself in the crowd and let us know.
Next up for WCSC is a New Years Eve party at Logan Square Auditorium. Tickets are only $15 in advance from The Empty Bottle, so get yours now.