The Crombies Are Coming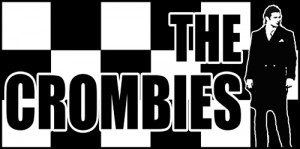 The CROMBIES are 2 TONE!
Lord Mike, where have you gone? It has been over a year since the legendary last Lord Mike & The Dirty Calypsonians show at Metro. And people worldwide have inquired whether the former Deal's Gone Bad singer – and world's dirtiest Calypsonian – would ever sing again. Some were generally concerned for his mental state…but most wanted to gain back a sense of hope – what new band could fill the void and guarantee a night of drink and general stupor? Over the past few months, "Lord" Mike has been secretly plotting his new act – with former members of the Calypsonians – and they call themselves THE CROMBIES! Are you missing that live 2 Tone sound? Have no fear – the dance craze sound has returned to Chicago! And catch their debut show opening for Mustard Plug at the Beat Kitchen on July 10th! A MUST SEE SHOW!!
The CROMBIES are also gearing up for their debut 7″ single on Jump Up! this fall!!
Visit the Beat Kitchen site for tix!
Tags: 2 tone, dance craze, the crombies