Windy City Soul Club 2010 edition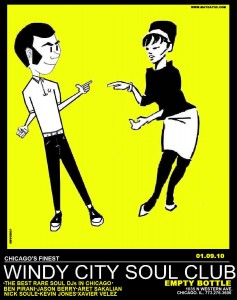 It keeps growing and growing…
Windy City Soul Club is back at the Empty Bottle this Saturday, January 9, after a knockout smash event in December. Doors at 10pm (we think), still $5.
To get you hyped, here's a few that JJ spun in Milwaukee on NYE:
Gale Garnet – I'll Cry Alone
Miss Lavell – Stolen Love
Baby Washington – Let Love Go By
Connie Questell – World of Trouble
Frank Minion – How Much Land (Does a Man Need)
Little Oscar – Empty Bottles
Mighty Joe Young – Ladies Man
Louis Jordan – Working Man
Jimmy Witherspoon – Hey, Mrs. Jones
The Kindly Shepherds – Lend Me Your Hand
A huge thanks to The Get Down for hosting such a fantastic party… and Mr. Fine Wine for the fab tunes. Also, check out Violetville Vintage… thanks for the hospitality!
So see you all Saturday… get there early cos WE need to pack this place, and WCSC was packed by 11 last time – don't delay!
Empty Bottle
1035 N Western Ave
Chicago, IL 60622
(773) 276-3600
Tags: 45s, talc, wcsc, windy city soul club