Windy City Soul Club turns 1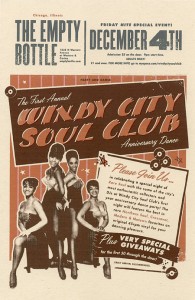 It's big… it's massive… it's huge… and astute observers of Chicago's soul scene will notice that it's one month late.  No matter.  Windy City Soul Club is booked at Empty Bottle this Friday, Dec. 4 to celebrate their one year anniversary.
Doors are at 10pm and you're advised to line up: first 50 in get a free anniversary mix, with tunes ripped from the WCSC favorites box.  More giveaway goodies throughout the night.  All killer no filler.  See you there.
Empty Bottle
1035 N Western Ave
Chicago, IL 60622
(773) 276-3600
Tags: 45s, anniversary, dancefloor, talc, wcsc, windy city soul club